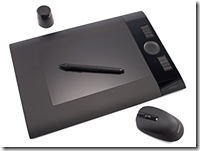 Like the mighty pen for a writer, our mouse is our tool that we bond with and bring our dreams to life. I had the experience of using a wacom tablet a few years back, and unfortunately I don't have one right now, but I wanted to take a moment to share a few details about the most recent release. The wacom tablet is the perfect tool for a digital graphic artist. If you really want to expedite your graphic design projects, get your designers the new Wacom tablet, INTUOS4 professional pen tablet.
I'm sure that there would be no argument that Adobe's Photoshop is the perfect tool for creating original photo quality artwork. The latest version, Adobe's Photoshop CS4, is phenomenal. All of the new features will speed up productivity immensely. And coupled with the next generation, Wacom Generation 2 tip sensor pen tip, your designers will be unstoppable.
While Wacom's Cintiq has an LCD surface and can display your screen, I think that most designers would make the transition to the Ituos4 more easily so that you can gain speed without losing focus on the screen.
Since I don't do much design work myself, this would definitely be a luxury item. I find myself spending most of my time in long documents. Whether it is programming, reading configurations, schema's, reports, or data documents, my files tend to run really long. My mouse preference is Logitech's MX Revolution. The endless scroll really speeds up time, and the comfort has no other match. I've tried many Microsoft Mice, and while I use a Microsoft keyboard, I prefer the Logitech mouse. On my laptop I use a Logitech's VX Nano, again with many of the same features, but mini for the laptop.
The right keyboard and mouse will make all of the difference in your work day. In fact, I just went out and picked up a new mouse for a CEO. His old mouse was slowing him down.
Which mouse and keyboard combination do you prefer? How about for work versus play? Leave me your comments.

Get IT Expediter by eMail