Journey To CISSP: A look at how to get the world-wide recognized security certificate
A little background
Security has been part of my duties since 2003, when I started working for a mortgage company as an analyst. At this mortgage company I was responsible for the entire network and development of their pipeline management application. Within the last couple years I've been thinking about taking a class to go in more depth regarding security, but decide on where I wanted to start.
Last week I saw an article about CISSP. I figured that if I was going to take a class to learn more about security, I may as well take one that would lead to a certificate to show that I had the knowledge. CISSP is recognized world wide, with classes and test in almost every country. The requirements are managed by the (ISC)2, focusing on concepts and methods, rather than applications and techniques.
Classes
I first started looking for classes in my area. Stockton didn't offer any classes. I ended up finding a class in San Francisco and Sacramento, and called them to check on pricing and scheduling. The Sacramento company didn't offer the class any more, and the San Francisco company was too expensive, with the cost being over $4000. Within continued investigation I discovered several other class offerings in the $3000-$4000 range. Since I can't afford to pay this myself, I decided to get a book.
All in one CISSP Exam Guide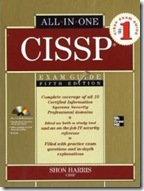 I started out at Barnes and Nobles website, thinking that I would find the best book and run over to the local store to get it immediately. After settling on a book published in November of 2009, I looked it up on Amazon.com to check on reviews. Later I found that most people were going with the "All in One CISSP Exam Guide" by Shon Harris. The latest book was just published in January of 2010 and people seem to be raving about how great of a read it is, and how they were able to pass the exam on their first try. The Fifth Edition of the All-in-One CISSP Exam Guide seemed like the best book of choice. Now I just need to wait for it to arrive.

Get IT Expediter by eMail