On Friday, April 15th, all of the Valley Apprentice teams converged at the Modesto Airport to catch up on current activities and to have a few new tools introduced to them.  Each of the 5 man volunteer teams, sat eagerly across the room from Dan Costa, local business man and concept originator of the Valley Apprentice, and Jason Gordo, Valley Apprentice event coordinator, waiting to hear about the new tools they were promised.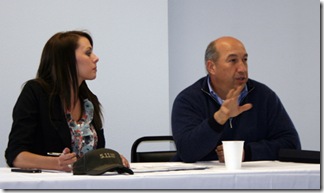 First came a review of from each team of how they are doing to date.  After Team Red Ops, representing the Salvation Army Modesto Red Shield Community Center, gave their update, Gordo was quick to chime in that it sounds like they are currently in last place.  Team Red Ops may have a lot of ground to make up, if they are going to pull off a win.
After checking in with the team, Costa introduced Qdoba marketing manager to share a fundraising opportunity in which the team have the the ability to earn 50% of sales from their restaurants, over a 4 day period.  To support the team, you must bring in a flier to show that you heard about the event through the Valley Apprentice.  You can print your copy of a flier this link.
The opportunities continued, with Dan costa, who started in the restaurant business, offering to serve dinner for 14 at his house.  Each team gets to sell dinner at Costa's house, as another opportunity to raise funds for their charity.  If you would like to have a full 5 course dinner at Dan Costa's house (theme to be announced later) please send an email to josh@vervenetworks.net.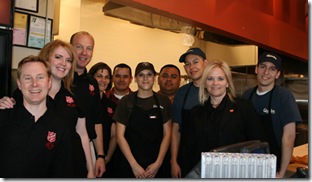 Another eating opportunity arose from Jason Gordo, who promised to BBQ for 100 people, and that the teams can sell tickets to his BBQ as well.  These dining opportunities come at no cost to the Valley Apprentice teams, and 100% of the funds will go to support their charities.
And as a final fundraising feat, each team is given 100 tickets to the finally.  The finale will be at the Gallo Center for the Arts, where Don Costa, Eric Trump, and Donald Trump will be watching and judging to see which team is the winner.  Each team will be given 10 minutes to present their projects, and the audience will be given the opportunity to weigh in, and then Team Red Ops will be announced the winning team.
Maybe this is a little optimistic, but Team Red Ops, supporting the Salvation Army Modesto Red Shield Community Center, has an amazing line of events scheduled, and are sure that after everyone has an opportunity to see what they have accomplished over these few short months, it will be obvious that they are the winning team.
Follow Team Red Ops on Facebook
Support the children of South Modesto